I have an allergy. What do I do?
HelloFresh has a variety of menus that could potentially contain an allergen. Ingredients are stored in HelloFresh facilities segregated by packaging that results in protection from cross-contact.

This protection is as rigorous as the handling, storage, and display segregation achieved in typical retail establishments (supermarkets, etc.). Most ingredients pass through HelloFresh to the customer sealed in the packages they were received in.
We offer plans for meat eaters and vegetarians along with the option to customize plans via the following preferences: beef-free, pork-free, fish/shellfish-free, fit, quick, or variety.

However, we do not yet offer the option to tailor your plan for specific allergies.
That being said, HelloFresh has a team of dietitians that reviews every ingredient for any of the major 8 allergens: wheat, dairy, soy, eggs, nuts, peanuts, fish, and shellfish.

The dietitians then use this information to identify and disclose if any recipe contains any of these allergens. Information about any potential allergens in any recipe is then posted on the website next to the meal choice, and the specific ingredient that contains the allergen is called out.  
We leave it to our customers to review the ingredients and determine which recipes best meet their dietary needs.

There are countless customers with strict allergy requirements who use (and love!) us but substitute certain ingredients from their own fridge or pantry for their particular needs. 
You can log into your account and review the allergens in each recipe here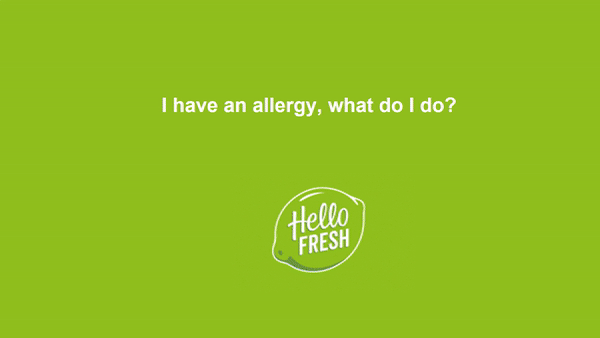 Do you offer organic ingredients?
Some, but not all, of our ingredients are organic. The focus of HelloFresh is on helping our customers make those first steps towards cooking well-balanced meals at home. While the majority of our product is not organic, what we do concentrate on is what produce looks and tastes best.
We work with trusted, experienced, and sustainable business partners to ensure high quality, seasonal, and farm-sourced produce is delivered to our customers at peak freshness.
Eating organic is certainly one way of eating better; however, the focus with HelloFresh is more on helping customers have a positive cooking experience in the kitchen.
Rather than focus on whether or not the produce is organic, we are trying to help our customers take the necessary steps to add in more fruits and veggies in their everyday lives.  
Do you offer gluten-free, dairy-free, or nut-free options?
Yes! HelloFresh has a variety of meal choices each week, some of which are gluten-free, dairy-free, or nut-free.
When recipes are free of these allergens, they are labeled as such. We leave it to our customers to review the recipes each week and determine which ones best meet their dietary needs.
Do you offer vegetarian/vegan options?
We do offer a vegetarian box with 3 meals for either 2 or 4 people.
This box contains fresh fruits, vegetables, whole grains, and plant-based sources of protein.
There is no meat or fish. Occasionally, the vegetarian recipes are also vegan; when they are, the recipe is listed as being vegan.
With that said, many vegetarian recipes can be made vegan by opting to leave out certain ingredients (like cheese or yogurt).
You can see the veggie option we offer here.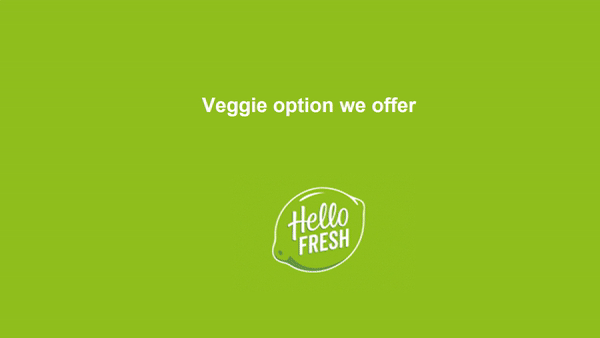 Do you provide nutrition information for your meals? Where can I find it?
Yes! Nutrition information for calories, fat, saturated fat, carbs, sugar, fiber, protein, cholesterol, and sodium can be found on the website next to each recipe.
Here is how to find it:
Log in to your account
Click on 'My Menu'
Select any meal of your choice
Nutrition information is located to the right of the ingredients list.

The nutrition information provided is based on a per serving amount. If you order a 2 person box, you would multiply by 2; if you order a 4 person box, you would multiply by 4 to get the total calories in the dish.
Occasionally we will have recipes that have more than the 2 or 4 servings, but this will always be listed on the website ahead of time.
We purchase our ingredients from several different suppliers, so nutrition facts per meal can vary from the website to your box.

However, a black and white, FDA-compliant nutrition label can be found inside of the HelloFresh box that is shipped to your home.